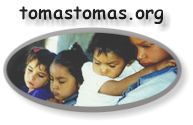 The Alamos Project - Phase I
Biblioteca de los Ninos de Alamos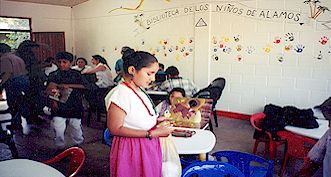 PICTURES and INFORMATION


THE LIBRARY PROJECT
THE FIESTA
THE OPENING OF THE LIBRARY
ROBIN'S LOG

In April of 1999, the two Toms took a trip to the village of Alamos in Mexico to see Tom Sawyer's sponsored child, Marisol Corral. It was there that the idea of starting a library came to pass. See Origin for details. They were able to secure a building for the library from the Alamos school board on September 7, 1999.

Purchasing the Books
As of January 2000, we raised $7,170.00 through a play written by Susan Hunt - produced by Rosemary Ward and by donations from 27 generous donors. Although, we fell short of our goal of $10,000, we had enough funds to purchase and ship 1,100 books from two publishers in Mexico City. With the help of Dr. Brian Shears, providing us with the connections to reputable publishers, we were able to purchase books for literature, history and science, along with dictionaries, atlases, and a set of encyclopedias - all in Spanish for grades 1 through 12. Both publishers, Fondo de Cultura Economica and SITESA provided generous discounts.

Getting the Books There
The book shipments arrived in Obregon and Alamos in late December 1999, and are being stored at FAI headquarters in Obregon and at their field office in Alamos. FAI has been a tremendous help, they have provided transportation, language translation, and have opened many doors to people and resource - thank you FAI.

Setting up the Alamos Library - March 25th Update
The Tomas Tomas team flew to Obregon, Mexico on March 1, 2000 where they were greeted by FAI and then driven 90 miles to the village of Alamos to begin setting up the new library called, "Biblioteca de los Nenos de Alamos."

The library was a wonderful success and FAI and many local people helped in it's making. We refurbish an older school building, did minor repairs to walls, painted, put in glass windows, electrical, lighting, and installed 8 tables and 42 chairs. George Shepard from Oregon who is a muralist came to Alamos on his own ticket and painted animals and children on the inside walls. We installed 16 bookcase modules and through the tireless efforts of Robin Flinchum (Tomas Tomas translator), cataloged 937 books including encyclopedias, atlases, and dictionaries.

Much of the work was done by the children organized by FIA in Alamos, the children actually got to help in the building of their own library. The library opened on March 13th with about 200 children attending the opening. The superintendent and directors of schools in Alamos, in conjunction with FAI, put on an educational fiesta with music, puppet shows, children's dancing and poetry.

We are not sure how it is in other schools in Mexico, but the elementary schools in Alamos
have no books for students. Only the teachers have books that they teach from. We met with some of the teachers and suggested that they include assignments that would require the students to use the library. The children that attended the opening of the library did not want to leave the library - that's a good sign!

Thank you all for a great project
We sincerely thank Jorge Valenzuela, Dora Elia Garcia, Olivia Amabizca, Luis and Ana Leyva, Emma Michel, Roseria Cubedo Corral (Maye), and Lupe of FAI for bringing us into their homes, providing transportation, connections, a place to stay, and for their never ending work of lovingly helping children. We thank Comex Paint Company for giving us a great deal on the paint and allowing us to use their tools. We thank Cuco the brilliant carpenter and cabinet maker for going the extra mile to get the job done on time. (By the way - Cuco must be magical - when ever we needed him, he would just show up on a bicycle.) We thank Juan Zoilo Lopez the director of the school for believing in the project and Jesus Gil - Superintendent of schools, Professor Juan Zoilo Lopez, and Professor Juan Torres for providing the building for the library and the many wonderful children who helped paint, sort books, assemble lighting and tables, and move materials from here to there. We also thank our publishers, Daniel Goldin of Fondo de Cultura Economica and Jose Ignacio Echeverria of SITES for providing generous discounts for the books and Dr. Brian Shears of Sonoma State University for connecting us to the publishers and helping in the selection of the books and Laura Goldman of Santa Rosa Junior College for translating the Alamos Library contract. We also want to thank the Hispanic Chamber of Commerce of Sonoma County for the article that eventually connected us with Dr. Brian Shears. Many, many thanks to George Shepard of Hoodriver, Oregon for traveling all that way to paint murals for the library and Robin Flinchum of Death Valley, California for acting as project translator, cataloger, and keeper of the log, and to Dr. Rosemary Ward for producing and providing her home as the venue for the play (fund raiser) and to Wild Child Productions. We also want to thank Susan Hunt for writing and directing the play and Brad Thomsen for recording the play live in Santa Rosa and to the great actors Sandi Lacy, Mary Gannon and Coco Tanner-Boylan and the 73 Donors who made it all possible.

How we Spent the Money -

March 25th Update
As of March 15, 2000 - out of the $10,026.17 raised: 23.2% ($2,326.17) has gone towards building materials & labor to renovated the building for the library, including 8 tables, 42 chairs, 16 bookcase modules, electrical, 4 florescent lights, paint, artwork, wall and window repairs. 38.6% ($3,871.48) was used for book purchases for 937 books, includes cataloging equipment donated to the library. 14.6% ($1,460.72) for travel expenses, including food and lodging for 3 people for 14 days, and airfare for 2 people. 13.6% ($1,368.90) has been used for startup costs, filing fees, operations, and Internet fees to date. 10.0% ($998.90) remains - cash on hand. Officers and/or directors of Tomas Tomas do not receive monetary compensation or salaries, however they do receive out of pocket expenses.