ALAMOS LIBRARY PHASE I COMPLETION
THE LIBRARY PROJECT
Pictures and Information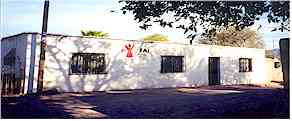 FAI Field Office in Alamos,
this is where the library team from Tomas Tomas stayed during the 14 day project, it sits on a hill in a beautiful old neighborhood. City water is turned on in the morning, sometimes, for about 20 minutes each day. "Be sure to fill your buckets"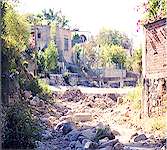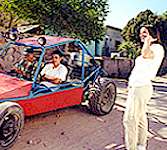 The river and houses near FAI Field Office. There has been a drought for almost 3 years - no water runs in this river. Taxi for a couple of days!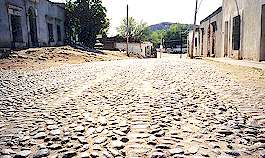 The library is housed on the school grounds at the end of the road.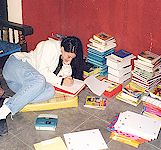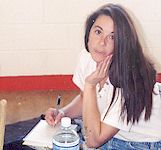 Robin Flinchum (Tomas Tomas translator) heroically cataloged 937 books in Spanish, kept a daily log, and acted as Tom Sawyer's personal translator.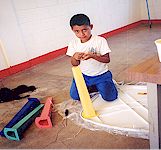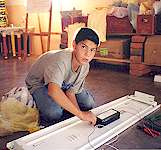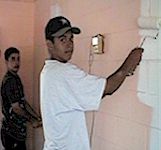 Many of the children helped in the assembly of tables, florescent lights, painting, artwork, hauling of materials, sorting of books, and cleanup. It gave them a since of pride and ownership in the library.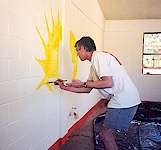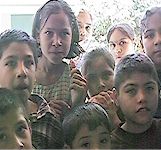 George Shepard, the muralist from Oregon begins the mural with a sunburst. For the most part George outlined the drawings on the inside walls of the library, they were then painted in by children. Children watch through the front door of the library as George created designs for the mural.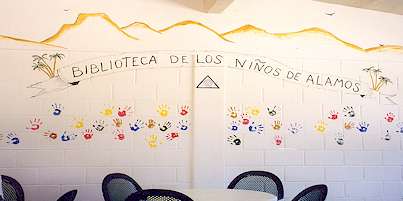 Under the supervision of Professor Zoilo, George Shepard had approximately 50 children dip their hands in different colored paints and place their hand prints on the west wall - signifying their signature and ownership in
"The Library of the Children of Alamos".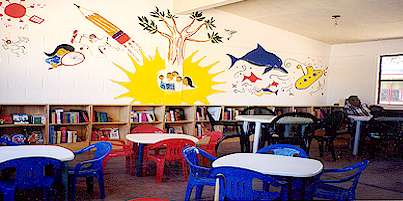 The library is now ready for opening day!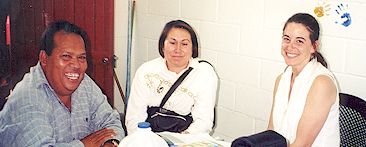 Professor Juan Zoilo Lopez - Director of the school, Mrs. Zoilo, and Robin Flinchum - Tomas Tomas Translator, smile - the library is ready to open.