THE GREAT ALAMOS ADVENTURE
(Or Two Weeks Building a Library with Tomas Tomas)
March 1- March 14, 2000
DAY 1
I meet Tom Sawyer for the first time in the Los Angeles International Airport. I've been told I will know him by his mustache, and it's true. From LA, we fly into Hermosillo, and then to Ciudad Obregon. It's a nice little airport with one 3-foot luggage carousel, which makes everything a lot easier. All the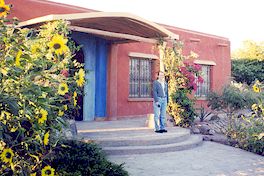 luggage arrives intact, always a good sign. We're picked up at the airport by Olivia Amabizca from Fundacion de Apoyo Infantil (FAI) office in Obregon. She seems a little thrown off by the fact that I am a woman, she offers us a bed at her house. No, we say, thank you, but we don't know each other quite THAT well. She takes us instead to the FAI office, a beautiful straw bale hacienda painted with natural dyes. Turns out, building straw bale houses is one of their big projects. The inside is tastefully, artistically done with high arched ceilings, different kinds of floor tiles in each office, different window, door, and ceiling styles. FAI has built 50 straw bale homes for families involved in their programs in Obregon. They are inexpensive, naturally climate controlled, and surprisingly easy on the eye. Tom and I are to sleep on the floor in the main meeting room. Thankfully, he brought me a sleeping bag. So far I haven't spoken a word of Spanish--everyone we've met speaks English.
DAY 2
We slept well and woke early, just as the sun was coming up over this pretty high desert country. There was no shower available, but a nice bathroom to wash up in and we were ready to go. Our ride, of course, didn't show up until a couple of hours later, but we just wandered around the office looking at everything, trying to get used to being there. I am a little concerned--I can't really understand a word anyone is saying. They speak very fast. Hopefully, I will adjust quickly, or we are in really big trouble. Luis Leyva picks us up around 9:30. His English is perfect so there is no problem there. He drives us first to Navojoa, a smaller city about halfway between Obregon and Alamos. We go to the hardware store and the paint store to check prices on the things we will need for the library and finally we stop for a licuado. I am starved, but Tom is doing OK. He packed in about a year's supply of tinned sardines. He offered to share, but I guess I wasn't quite THAT hungry. With all our errands done in Navojoa, we go on to Alamos.
Alamos is a sweetly beautiful small town. The streets are narrow and paved with rocks, the buildings are old-fashioned, well-maintained, nicely painted in light colors. There is no graffiti, the people we pass seem happy enough. The sun is shining, there are flowers everywhere, especially bougainvillaea, which always somehow makes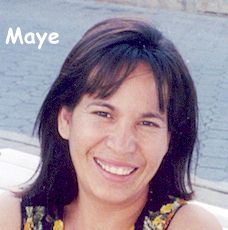 me feel that all is right with the world. At the FAI Alamos field office we meet up with Maye, Emma, and Lupe, the three FAI staff people here. Alarm bells go off in my head when Lupe, an enthusiastic and friendly young man, starts talking to me about his organic garden project. He talks so fast I swear his lips are blurring together. Maye, however, has a soft voice and she speaks more slowly. She's about my age, rather beautiful, smart and capable. One of the first things Tom wants to know about is how his sponsor child, Marisol, is doing. She's had some health problems and Maye has been working with Marisol and her mother to get things straightened out. Fortunately, I understand Maye very well and am able to translate that Marisol has had parasites of some kind, has been treated for that and for anemia, and that she is improving. The other staff person, Emma, is also around my age, perhaps a little younger. She asks if we will be comfortable enough sleeping in the office (which is a very nice concrete building with a kitchen, sometimes-running-water, a fridge and a living room with one mattress). We tell her we will be fine. It seems quite luxurious, really. We can make do quite nicely with what is available.
In the afternoon Luis drives us around on our errands and Maye accompanies us. One of the FAI sponsor children has died of childhood leukemia and there will be a funeral in the afternoon. Maye tells us that the boy's younger brother also has the same sickness and they have lost other children to it as well. Maye grows sad when she talks about it. She has seven children of her own and many, many others (there are 600 FAI sponsor children in Alamos) under her care. She is amazing.
We meet with the principal of the school, Professor Juan Zoilo, and he takes us to the little building that they have set aside for the library. Just at the moment it is occupied by some census people, but he promises it will be cleared out by ten in the morning. It will need to be painted and cleaned, there is a broken window and the lights will need to be replaced. There are some strange tracks going up the walls which they tell us are termites, concrete-eating termites. The building used to house a breakfast program, but the funding was cut. The principal says we can get rid of them easily with some kind of oil. We briefly discuss the contract between Tomas Tomas and the school and the appointing of a library committee. Thankfully, my comprehension is improving rapidly.
After that we have lunch in a sweet little restaurant called Las Palmeras. It looks out over the town square, which of course fronts up to the main cathedral. No one seems to know how old the church is, but they all say; well, it's been there forever. Then we go shopping for a carpenter and finally make arrangements with the third one we come to. His name is Cuco, an old friend of Maye's. The price quoted seems higher than what Tom was expecting, but we settle and are ready to move on, overall quite pleased. We go to find Marisol, but she is not at home. We go up to the Mirador, an overlook built at the top of a mountain where we can look down on Alamos. It really is a beautiful place. Then we get some groceries and head back to the FAI office where Luis departs, heading back to Obregon with promises of returning soon if he can. Lupe points out his house, which is just around the corner, bids us a flowery and friendly good night, and takes his leave. Tom and I, exhausted, roll out our sleeping bags and call it a night. Everyone has been so incredibly friendly and helpful. It is beginning to look as though we might actually pull this off.
DAY 3
First thing in the morning we change money at the bank and give Cuco the agreed upon amount so that he can go into Navojoa and pick up the supplies he'll need. Then to the paint store, where we find that the prices are better in Alamos (perhaps because Maye is with us). The tiendero is surprisingly helpful, loaning us a ladder and an extension handle for the rollers. Then to the hardware store where we load up with cleaning supplies and other assorted items we expect we will need during the course of the day. When we arrive at the school the building truly is just about cleared out. We begin cleaning but the school runs out of water in short order. Alamos is

in a time of drought, there has been very little rain this year. The water is rationed and sometimes there just isn't any. We give up on the cleaning and get on with the painting. The building, being on the school grounds, is attracting many curious onlookers. Students at recess crowd around the doors and windows, watching us paint. In the afternoon Emma brings two teenage boys to help us. They are pledged to work a certain number of community service hours as part of their school graduation requirements. They are excellent painters, both having done this sort of thing before. Tom and I are quite relieved (I hate painting, I don't know why). When their time with us is done in the afternoon there is still more painting to be done. We make arrangements to hire them to help us again the next day, agree to meet them at the school at nine in the morning (tomorrow is a Saturday). In the evening we go to Cuco's to see how he is getting along and review the plans for the shelves again. He's already got all of the wood cut, the supplies were a little less than his original estimate. He says the shelves should be ready in three days. At night we plan to go to the big festival in town, but we are just too tired. We sit out on the back steps of the FAI office, looking up at the starry sky and feeling thankful for the warm breeze. Again we go to sleep early.
DAY 4
No one comes to get us in the morning and we're worried that the guys, Ivan and Gilberto, won't wait for us at the school. So far, we have not been able to find a map of Alamos and though we have been driven there several times now, neither one of us feels that we could find our way to the school on foot. It's a small town, but there are a lot of narrow, one-way streets branching out in confusing directions. Finally, around 10, Ivan and Gilberto show up at the office in a dune buggy they made with Ivan's father and brother in Ivan's father's garage. They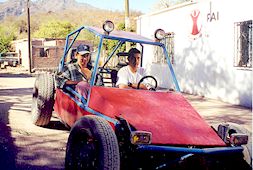 ride us around town in their spiffy little rig and we go to the school and finish up the painting. With that done we go to Las Palmeras for lunch (such good food!), hang around in the plaza until Lupe comes looking for us on a little three wheeler and shows us the way back home. At last we know half the way! In the afternoon we finally begin unpacking the books. There are nine boxes of books altogether, though we don't know exactly how many books that will turn out to be. The publishers weren't entirely sure what they had on hand when Tom placed his order. The books are beautiful, just beautiful. Tom has a little labeling machine and we begin sorting, numbering, cataloging and labeling each book. They will go into one of three categories: fiction, non-fiction, and reference, and will be arranged alphabetically. There are not yet enough of them to attempt a Dewey decimal type system. Later, Tom says, when there is more money coming in and more books, they hope to find a few people to help reorganize the library. We spend the rest of the day and evening working on the books. Each box we open feels like Christmas, they are all so beautiful.
DAY 5
This morning we eat breakfast at Emma's house. Her two boys helped her cook pancakes and chilaquiles. Her home, which she designed herself, is small but exquisitely beautiful. There are some excellent paintings on the walls, which it turns out were done by Emma. She doesn't paint these days, she says, she is too busy with the work and her family, but she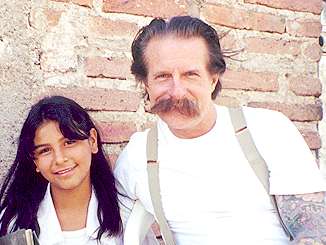 says she loves her work enough that she doesn't mind and she will go back to her painting later. We go to see Marisol and this time she is at home. We talk with Marisol and her mother Tomasa, and there is some confusion about just where Marisol's father is. Tomasa says he has just gone out of town to play some music, but she has told Maye something different. Tom asks many questions about Marisol's health, and is pleased that she seems to be recovering quite well from whatever parasite it was that she had (we are never quite able to determine that). Marisol shows Tom the special frame she saved up and had made for the picture of his wife, Mari. It hangs over her bed, she says, and makes her feel safe and looked after. Tom asks Marisol to let her father know that he'd like to hear him play again some time. In the afternoon we continue to work on the books. We sit on the floor with the books in stacks all around us, Tom runs the labeling machine, I'm in charge of the index. We're getting a little stiff from hunching over all day, but we are having fun.
DAY 6
Books, books, and more books. Each box seems to have even prettier books in it, but by now they are all starting to sort of run together in my mind. Around one in the afternoon there is a knock on the door. I can't say I jump up to answer in because I am sort of cramped into the lotus position and so is Tom. At any rate, at the door are Marisol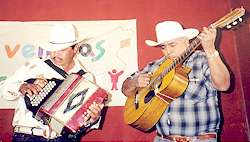 and her father and a friend of his. Her father, Jaime, has brought his accordion and his friend is carrying a guitar. They come into the little sala and commence to playing music, which perks both Tom and I up immensely. Tom makes arrangements with Jaime for he and the rest of his band to play at the fiesta on opening day of the library. Amazingly enough we are relatively certain at this point that we will in fact have done everything that needs doing by Monday, the 13th, and that is when the party is to be. After Jaime and Marisol go, Emma drives us into Navojoa. We buy plastic tables and chairs at a sort of Wall-Mart equivalent store, and after an agony of indecision, we choose kid-size tables thinking they will fit better in the small space. The library is to be open to all the children of Alamos but at this point we are thinking more little kids will be using it than big. Then we go to the hardware store and pick up an extra sheet of plywood that Cuco has ordered, we go to an electric fixture store and get the makings for four florescent overhead light boxes, and after much looking here and there we find a corkboard for the wall. Then we go back home and finish off another box of books.
DAY 7
Books, and more books, and lunch at Las Palmeras. Tom and I can now walk ourselves from the FAI office to the plaza and to the school and all the important stores in between. In the evening we finally finish indexing and numbering the books and we celebrate by eating peanut butter and jelly sandwiches and just sitting around for what is left of the evening, telling stories, admiring the stacks of books and going over what-all we have left to do.
DAY 8
Lupe brings us some fresh eggs from his parents' chickens and Tom cooks up some mighty fine breakfast. We set out early on foot and pick up all sorts of supplies; glass and putty for the broken window, odds and ends for the florescent lights, back to the paint store again, where the tiendero seems like an old friend and we invite him to the opening day fiesta, on to the stationary store, where we buy masking tape (which in Spanish is called 'masking tape', and there you have it), and some nice alphabetized notebooks to recopy the book indexes. At the school we set back to work painting the trim. The walls are all white for the murals that Tom's friend George will paint. The trim, Tom has decided for some reason known only to himself, will be orange. Juan Zoilo comes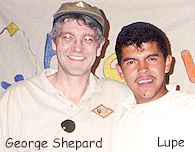 to help and replaces the window pane, some community service boys come and finish off the trim, and while we are talking with Juan about the fiesta and fixing a time, George arrives. He is one of those folks who just manages to get wherever he's going by perseverance and serendipity. Tom and I have been sort of guided and helped along the whole way, George has come from Oregon on public transportation and made his way to the school with the help of a taxi driver named Ramon. We all go out to lunch at Las Palmeras. In the afternoon, just as we were wondering how we would find the house of Cuco with no help, Cuco arrived at the school to check in and to say that the shelves were all done. We talked with him about treating the shelves with something to keep them safe from the termites, who have already begun munching up the fresh paint we put on only a few days ago, and about varnishing them. He says he can do that and have them ready for us by Saturday morning, which is perfect timing. Cuco always seems to appear whenever his name is mentioned. George spends what's left of the afternoon thinking about what he will paint and in the evening he accompanies us back to FAI. He has gotten himself a cheap room just off the plaza and when we invite him to stay at the office he says no, he doesn't see himself squeezing in on the one small mattress we are sharing, so Tom walks him back to town and I go to sleep.
DAY 9
This day, as it just so happens, is my birthday. Tom, having been duly forewarned about the dangers of forgetting such an important occurrence, wishes me happy birthday first thing. We go out to breakfast at the usual Las Palmeras, where we meet with Omar Morales, the fire chief of Alamos, who is also a professional wrestler and massage therapist. Omar is very young, only 24, but the oldest firefighter in a corps of young volunteers who fight massive forest fires with little protection and backpack tanks. He's surprised at Tom's offer of possible assistance and very pleased. We spend some time gathering information about the Alamos fire department and Omar's own personal experience, which is considerable and impressive. He started training with the Red Cross as an EMT when he was eight years old.
George brings me a very nice little birthday present, including a fortune cookie that reads; 'What you do with sincerity pays the greatest reward'. We go to the paint store and get paints for the mural, George gets started and just goes to town. It looks wonderful already, very colorful and big and just the sort of thing you would want to see in a library (astronauts reading books, a rocket pencil, and that sort of thing). We all quit work early and go to the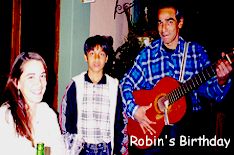 plaza Alameda where Tom and George have tacos and I have some roasted chicken and the girl in the tortilla shop gives me some fresh flour tortillas. It was delicious. We spend the afternoon sitting around not doing much, then we walked over to George's room and sat around some more, then Lupe came and said Emma had sent him to bring me to the meeting at the women's center. I went to the meeting, which was really interesting, having to do with domestic violence and how to overcome it by banding together as a community of women, and how to use the law to their own advantage. The women's center is really sweetly done and the women are, of course, very cool. After the meeting (which was in honor of international women's day) there was food and a big cake, so I got some cake on my birthday. Then Tom and I went to dinner at Las Palmeras, where we were joined by George and Emma, and a friend of Emma's came and sang me Las Mananitas and played his guitar. He was accompanied on the maracas by his son, the both of them being named Javier. He had a wonderful voice and sang a few more songs before departing and I enjoyed my birthday immensely. It was one of the best I have ever had.
DAY 10
In the morning Lupe brings a table outside for me and I sit in the shade with the warm breezes blowing and work at recopying the indexes into the new notebooks. Tom works on the florescent light fixtures, with the help of a nine-year-old whiz kid from across the street. In the afternoon we go to the school and George has worked a miracle with his part of the day. He's had a few kids in to help him, and has done part of the wall in their hand prints. The place is surprisingly clean given the chaos he describes. We are sorry we missed it, as George says it was quite fun. In the evening we have dinner at Las Palmeras again and go home feeling pretty pleased with the whole thing.
DAY 11
Today, the plan all comes together. The mural is finished, the shelves are finished, the books are ready, the lights are ready, the window is fixed. Lupe and his friend Fidel come around nine (giving us the gossip about what-all George was up to in the plaza the night before) and we go to Cuco's to get the shelves and deliver them to the school. Juan Zoilo comes at ten and he takes us to the bank to get money for Cuco while the guys get the books and bring them over. We clean the floors and Juan treats them with kerosene, then we put in the shelves and bring in the books. Marisol arrives to help stack the books and she and I and Juan's boy Carlos get to work on that while Tom cleans the windows and begins to set up the tables and chairs. Marisol's sisters and some other kids wander in and out. Marisol and the rest spend more time reading than arranging, which works out well since alphabetizing is not yet a fully developed skill with them and watching them read is better than anything else could be. When the books are all stacked and the tables and chairs set up, it looks amazing, but Juan is a little worried about all the small tables. They are really just too small. What to do? Juan and Tom make a mad dash for Navojoa to return some of the small tables and buy bigger ones and more large chairs. At this point Tom is learning a little Spanish, and Juan speaks some English, so they very kindly let me stay behind. I go back to the FAI office and stretch out on the mattress, where I remain without moving until Juan and Tom return. All the real work is done. George, a fly fishing fanatic, has made a plea to Juan to take us fishing and Juan has agreed, so we firm up our plans for tomorrow.
DAY 12
We go fishing with Juan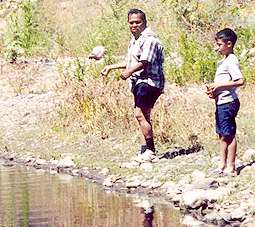 and his wife Conchita and their two kids. They are a fun family and go along laughing and talking all the way to the river. We've had some kind of communication mix-up with George and can't find him anywhere so we go without him. He has made numerous friends already in Alamos, and we are thinking he's gone fishing with someone else, as he ended up doing yesterday afternoon. Conchita and I spend the day sleeping in the shade of a big tree by the river while Tom and Juan and the kids go adventuring around. They don't catch a whole lot of fish, but they seem to have fun. In the afternoon, when we get home, there are various notes from George wondering what has happened, and he arrives shortly in person to find out the details of the mix up. Being a generally cheery and not particularly easily disturbed sort of man, Tom and George go to town together and again I stay at home, glued to the mattress. I can't believe it has all happened so fast, that the time is already almost over. Everyone has been so good and kind. I've been downright deliriously happy.
DAY
13
It's hard to say, exactly, just what this day has been like. We arrived at the school early to make sure everything was in order. We tooled around town a little making arrangements for drinks and whatnot, went by the fire house to pick up the letter Omar has written to help encourage the donation of some fire equipment to Alamos. Tom and I met with Maye and Juan Zoilo and the principal of the afternoon school, who is also named Juan (Juan Torres). They will be the library committee and will take care of the books and making sure that the library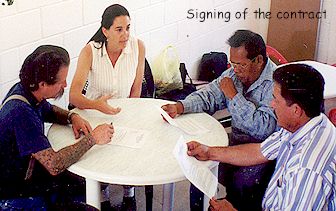 is open for the kids every weekday from 8-5. They all signed the official agreement that Tom needed to satisfy his 501(c)3 requirements, and then they had us come out to the cement courtyard, play yard thing in the middle of the school. We sat at a table with the school superintendent and the president of the PTA and Dora Elia Garcia from the FAI office in Obregon and Emma and Maye and the kids put on an amazing show of dancing and singing and poetry reading, a one-act play about Benito Juarez, a little ballet and some puppet shows. Jaime and his band (mostly his brothers) played in between acts and everyone seemed to have a great time. I know I did. Tom and George and I were taking tons of pictures and trying not to run out of film. Then we all walked over to the library, where they had put a red ribbon across the door, and Tom and Juan cut the ribbon together and the library was officially open. The kids swarmed in and gobbled up the books and Jaime and his band played on and by the time Dora said it was time to go (she was transporting us back to Obregon to catch our flight out in the morning), the books had mostly been rearranged, which was the best indicator of all that what had been accomplished, in these two short weeks by so many people working together, was worth all the effort. Cuco and Omar both came to the party, but the paint store tiendero couldn't get away from the shop. We had a chance to thank everyone for their help and to say brief good-byes (which are the best kind) to all of the people we were not quite ready to part company from.
Dora drove us to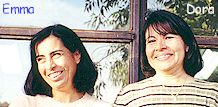 the FAI office, where we collected our stuff and said good-bye to Maye, Lupe, and Emma. I inevitably cried and was very sad to go. I'm happy to have met these people with such drive and determination and such kindness all at the same time. In the evening we arrive in Obregon and Dora offers to let us sleep at her house. She has a beautiful home, with plenty of running water. The water ran out in the FAI office several days ago, so I am way beyond ready for a shower. Feels like the Ritz. Dora's husband showed us his record collection and we all went out on the front porch and talked with Christion Frettlohr, the photographer from Boston who came to photograph the opening of the Alamos library for FAI. We learn a lot from Dora about FAI and then we go happily to sleep.
DAY 14
Dora makes breakfast for us and then takes us to the airport in Obregon. George is going back by bus, so we say good-by to him there. He will go on to the FAI office with Dora and spend some time before catching his bus. Tom and I fly into Hermosillo and then on to Los Angeles. There, in the same airport where we met as strangers just two weeks before, we part company as the best of friends, happy to have been a couple of cogs in a great big wheel that hopefully just keeps turning to make things a little better for all of us.


THE LIBRARY PROJECT
THE FIESTA
THE OPENING OF THE LIBRARY
---
Home | Origin | Our Charter | Organization | Library Projects | Fund Raising Events | Book Requirements |
Tomas y Tomas | Contacting Us | Affiliations | News

Copyright (c) 2000 Tomas Tomas - All rights reserved.

Website design and development by Santa Rosa Internet Group www.srig.net