ALAMOS LIBRARY PHASE I COMPLETION
THE FIESTA
Pictures and Information

The educational fiesta begins. Over 200 children attend the opening celebration. Seated from left to right are: Emma Michel - Head of FAI in Alamos, Dora Elia Garcia - Assistant Director of FAI Sonora, Tom Sawyer - President of Tomas Tomas, Robin Flinchum - Translator for Tomas Tomas, Jesus Gil - Superintendent of Schools in Alamos, and Cruz Murrieta - President of the Parent Teachers Association in Alamos. Professor Juan Zoilo Lopez is standing to the right of the table directing the activities of the celebration with Professor Juan Torres.

Professor Zoilo announces the opening of the library and directs the celebration, standing next to him is Lupe Yocupicio - Oganic Gardener for FAI Alamos.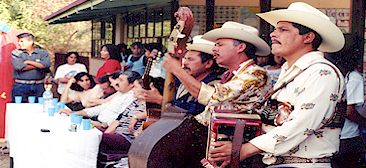 The celebration starts out with music from the Torres Brothers. They provide music throughout the celebration. Tom said, "I could listen to them all day and all night." Jaime Torres, the accordion player, has been playing since he was 12 years old. He is the father of Tom Sawyer's sponsored child, Marisol.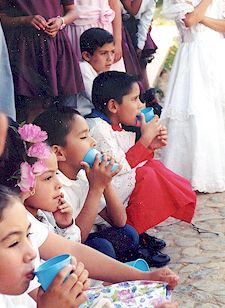 Children watch on as a young girl tells her warriors poem.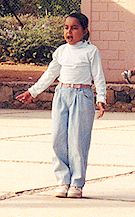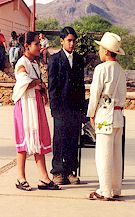 A young girl tells a poem about her warrior spirit and how it empowers her to persevere. Three children perform a play about Benito Juarez - revolutionary war hero of Mexico.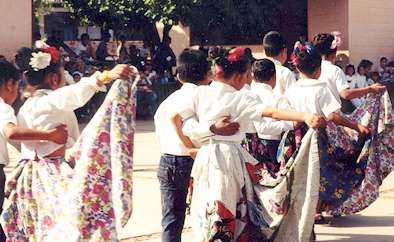 Children dance to the mariachi music of the Torres Brothers.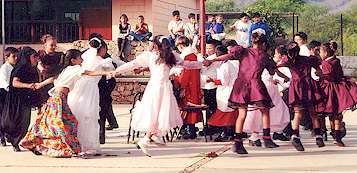 Children dance the celebration of Spring.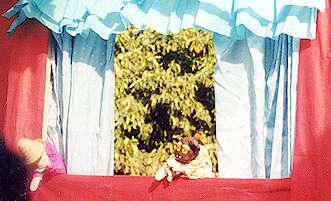 The fiesta ends with a puppet show about reading books. Then the celebration turns to the opening of the library. Kids, teachers, and officials walk over to the library while the Torres Brother play mariachi music.