ALAMOS LIBRARY PHASE I COMPLETION
THE OPENING OF THE LIBRARY
Pictures and Information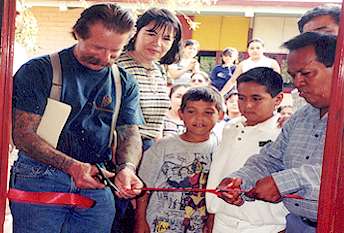 Dora Elia Garcia - Assistant Director of FAI Sonora looks on as Professor Juan Zoilo - Director of the school and Tom Sawyer, in honor of Mari Goslovich Quihuis-Sawyer and Marisol Torres, cut the ribbon on March 13, 2000 celebrating the official opening of the library named "Biblioteca de los Ninos de Alamos"
(The Library of the Children of Alamos).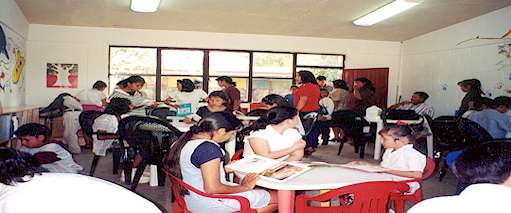 Throughout the afternoon over 200 children enter the library to read books.

The library seats 38 people. There were times throughout the open-house when there was not enough chairs to accommodate all the children that wanted to look at books.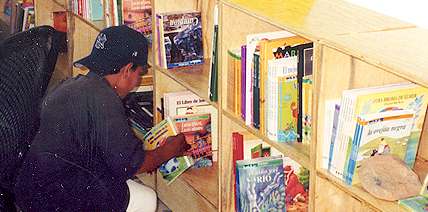 Currently, the library has 937 books for ages 5 to 15 organized in 16 bookcase modules by alphabetical order in three categories; fiction, nonfiction, and reference. Each module can be moved for cleaning and reorganized as the library expands.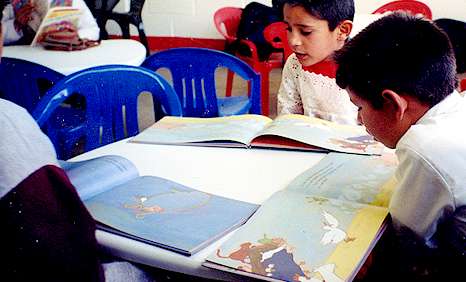 "The quality and selection of the books are very good, the best I've seen in a children's library", reports Dora Elia Garcia - Assistant Director of FAI Sonora.
Tomas Tomas wants to thank their publishers, Daniel Goldin of Fondo de Cultura Economica and Jose Ignacio Echeverria of SITES for providing generous discounts for the books and Dr. Brian Shears of Sonoma State University for connecting Tomas Tomas to the publishers and helping in the selection of the books.